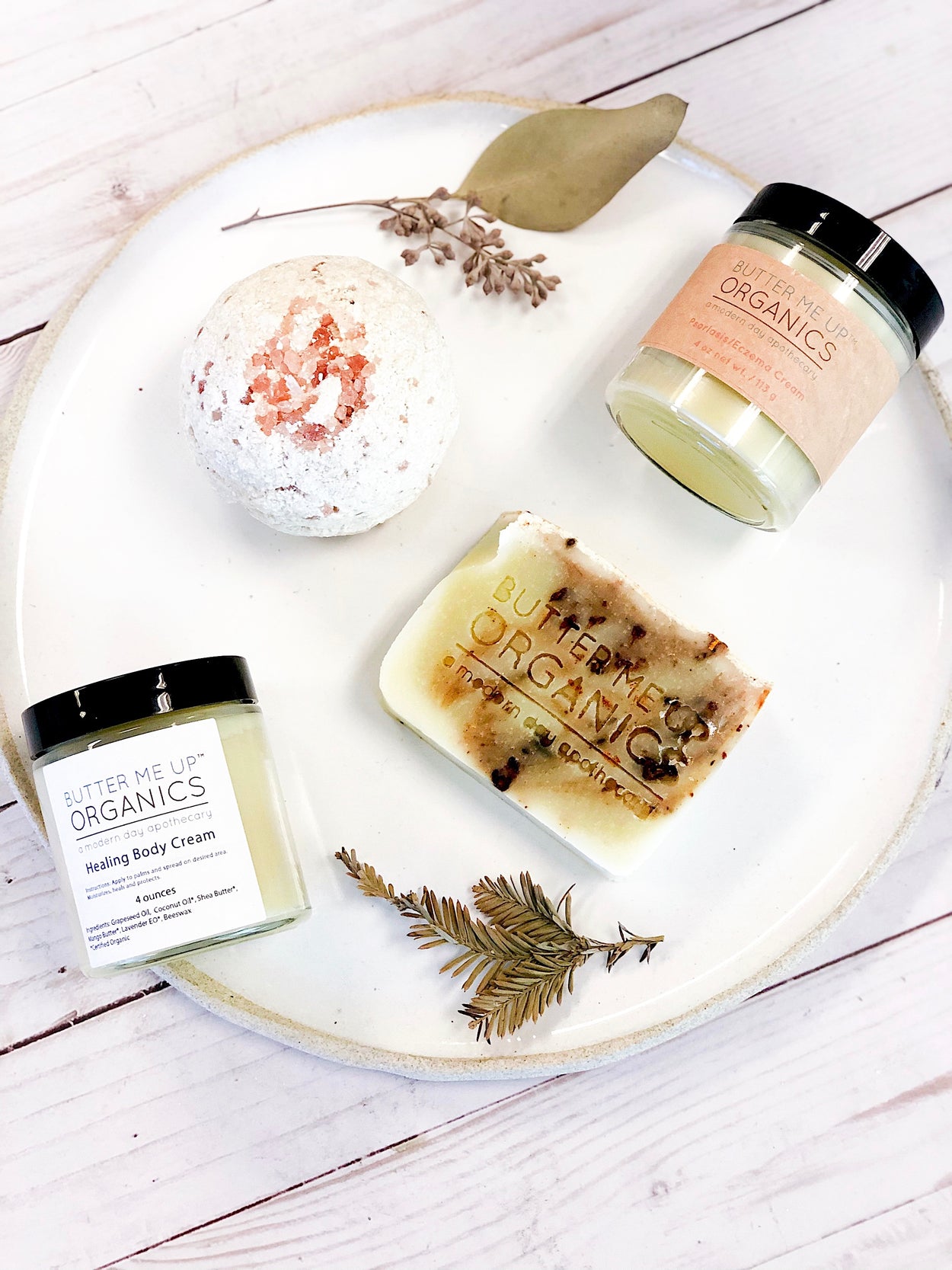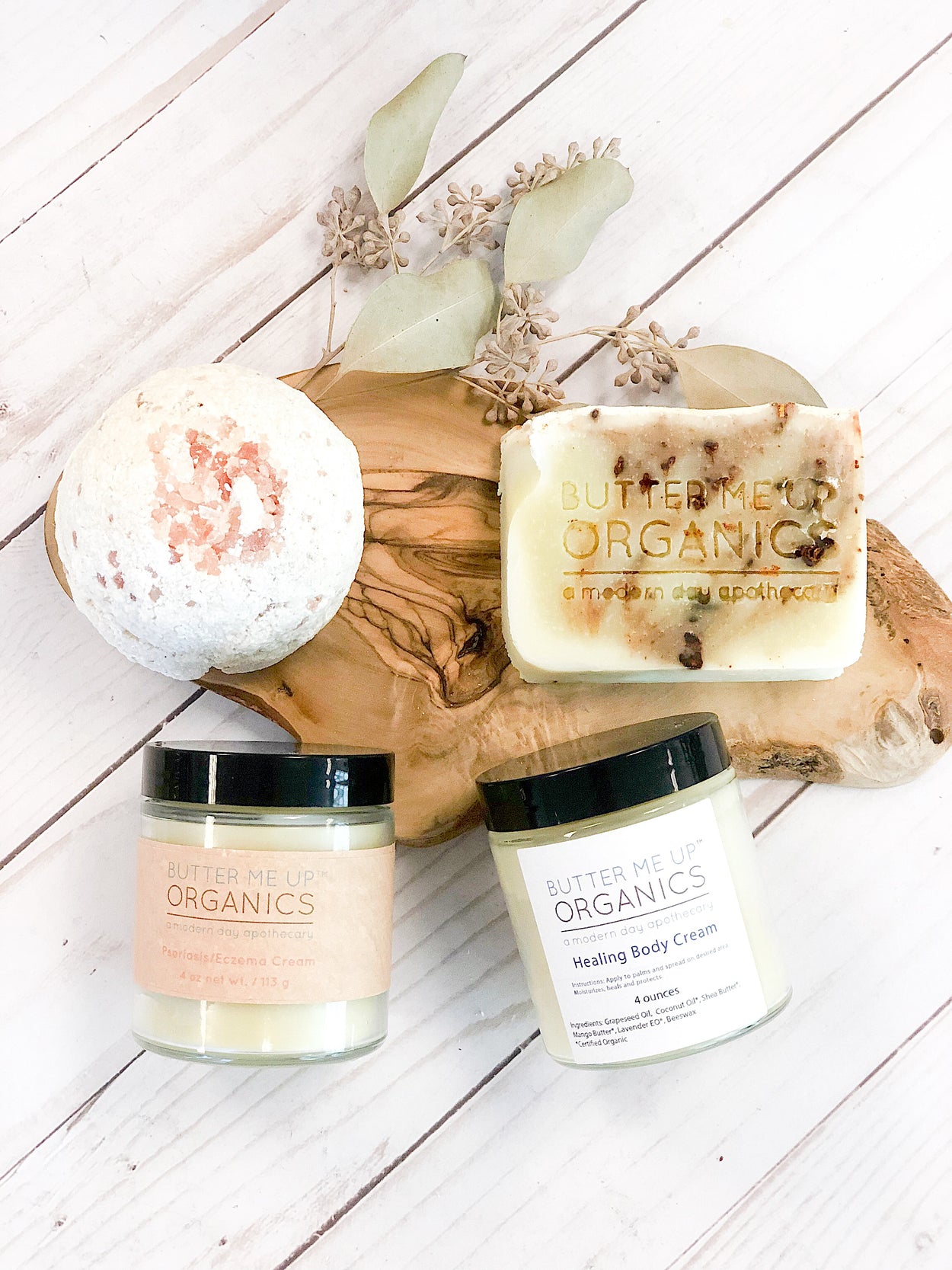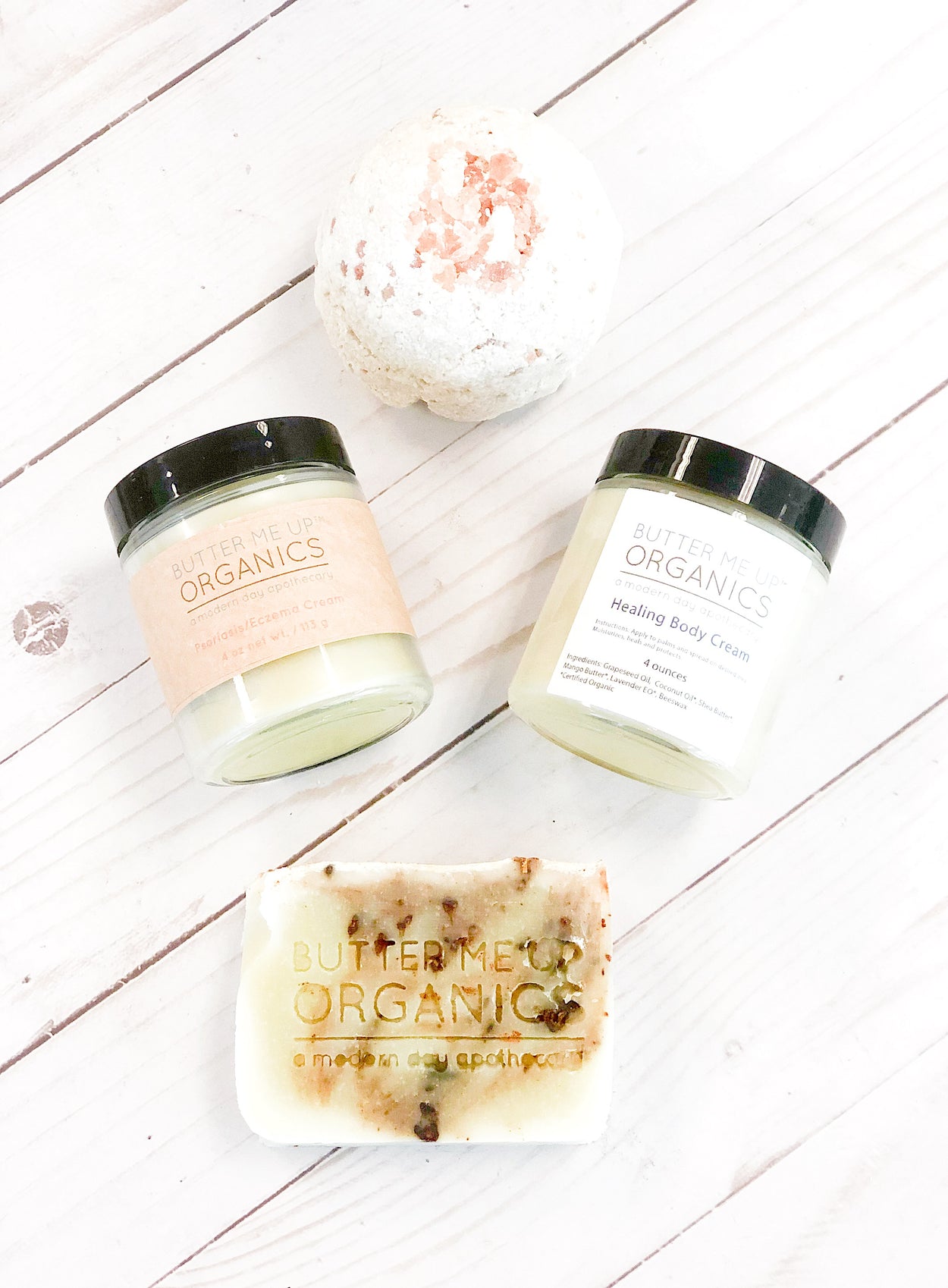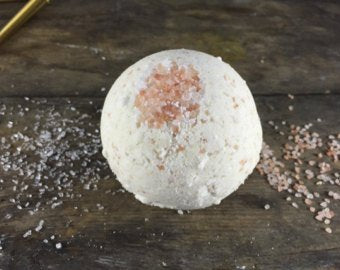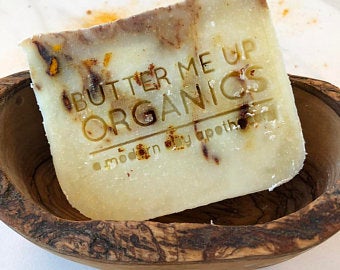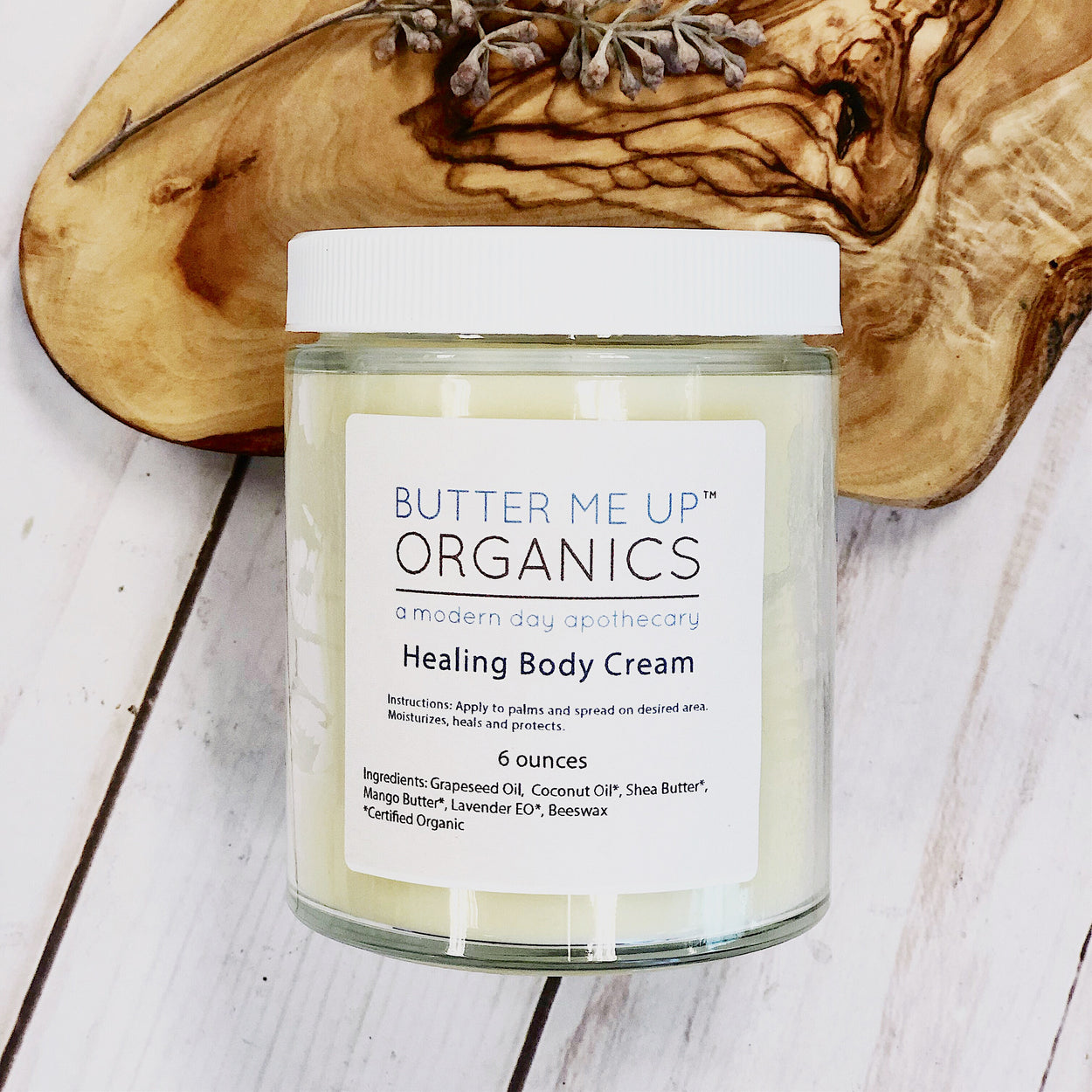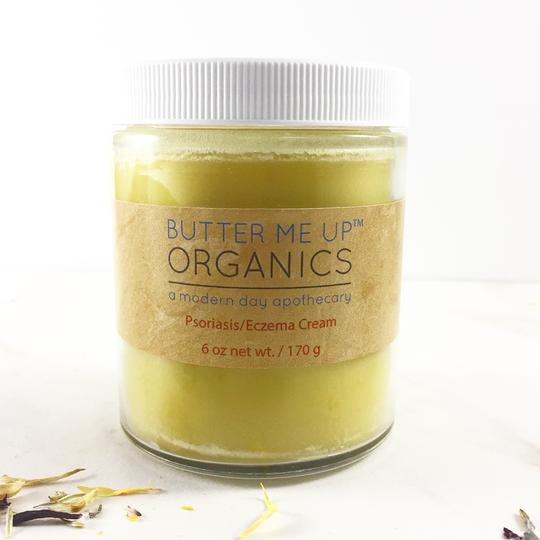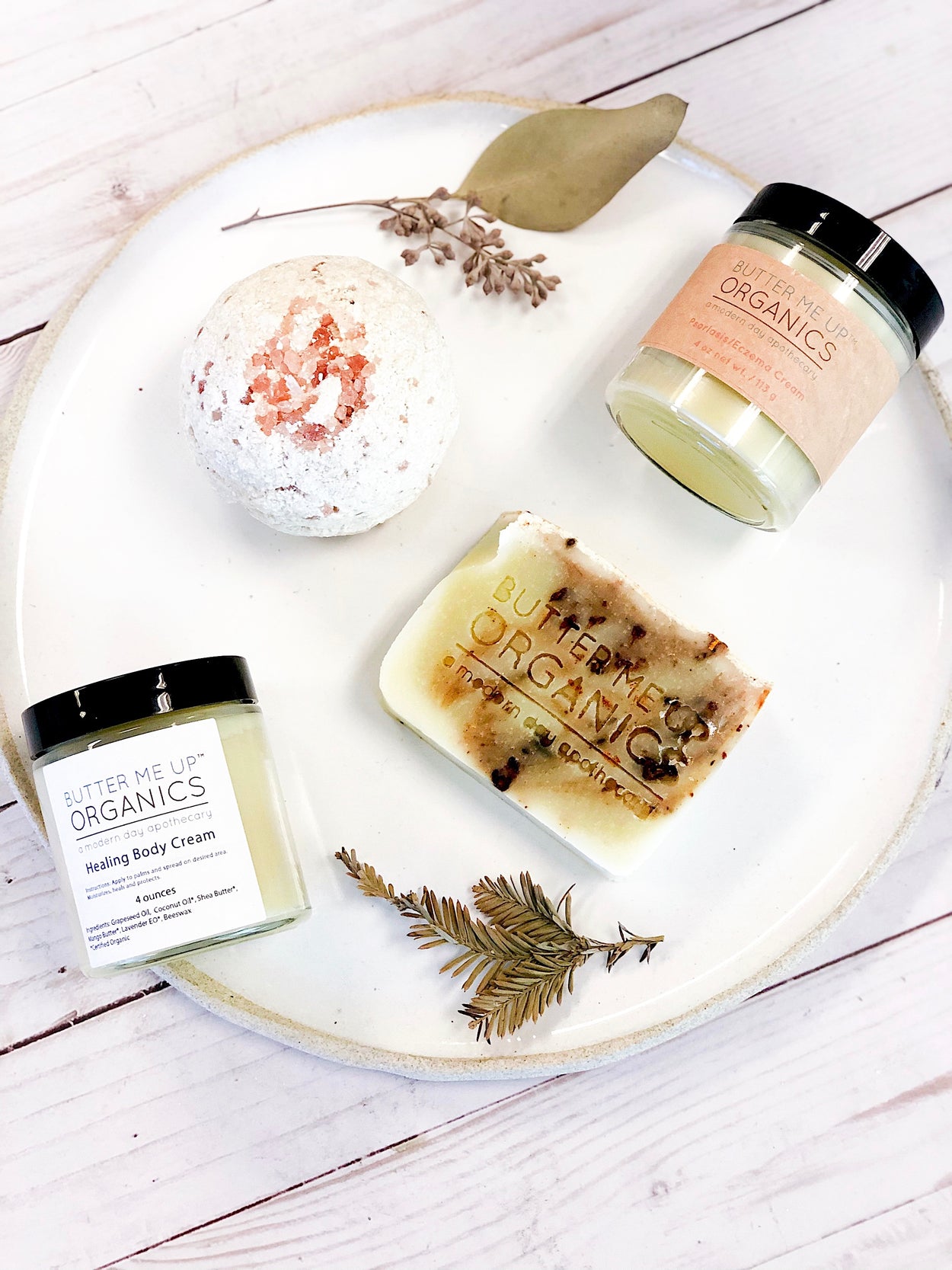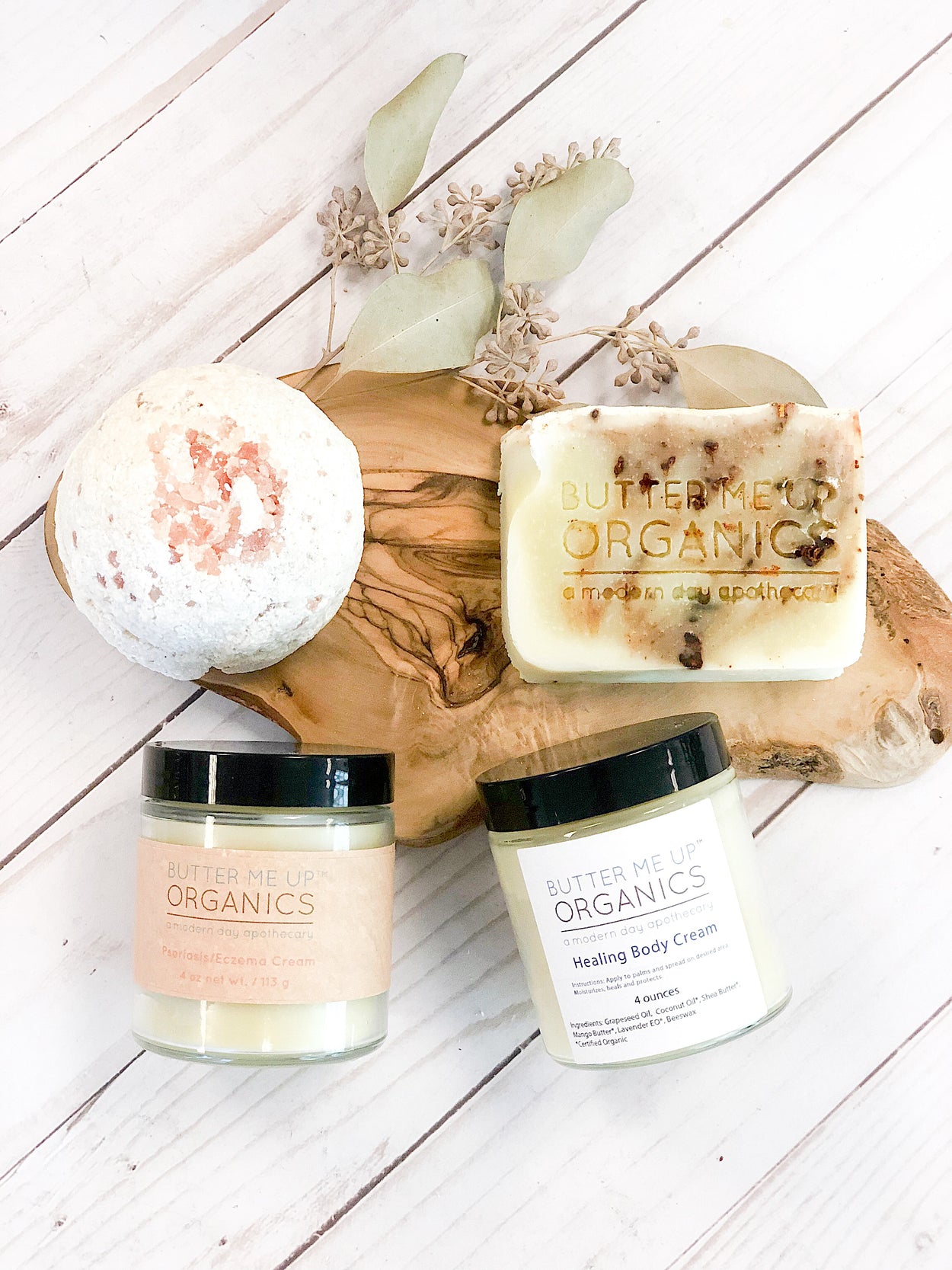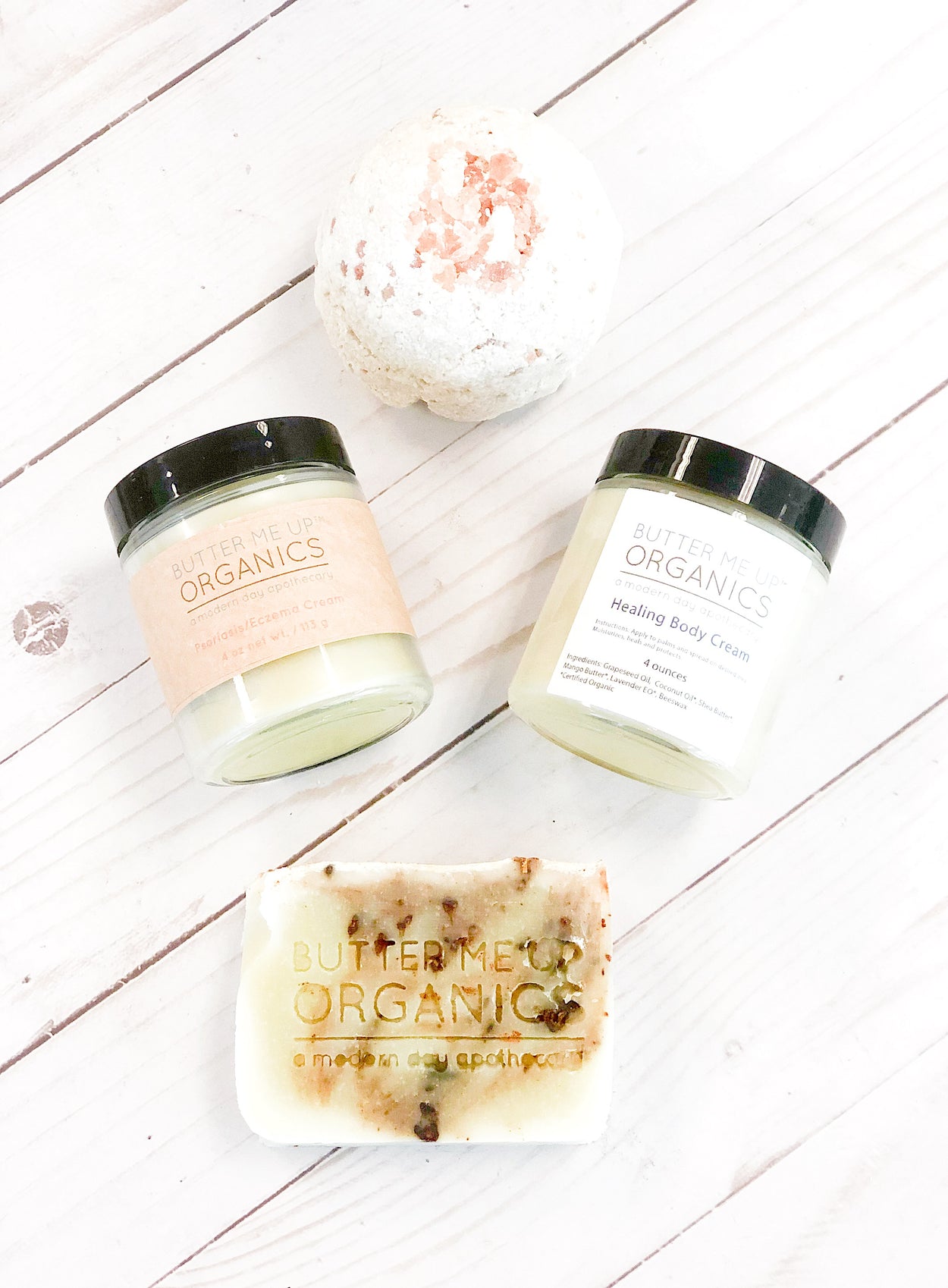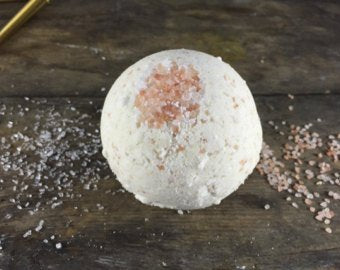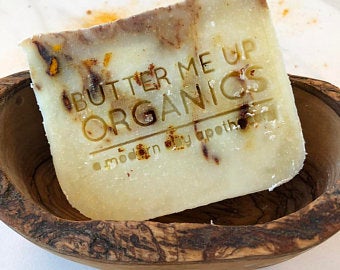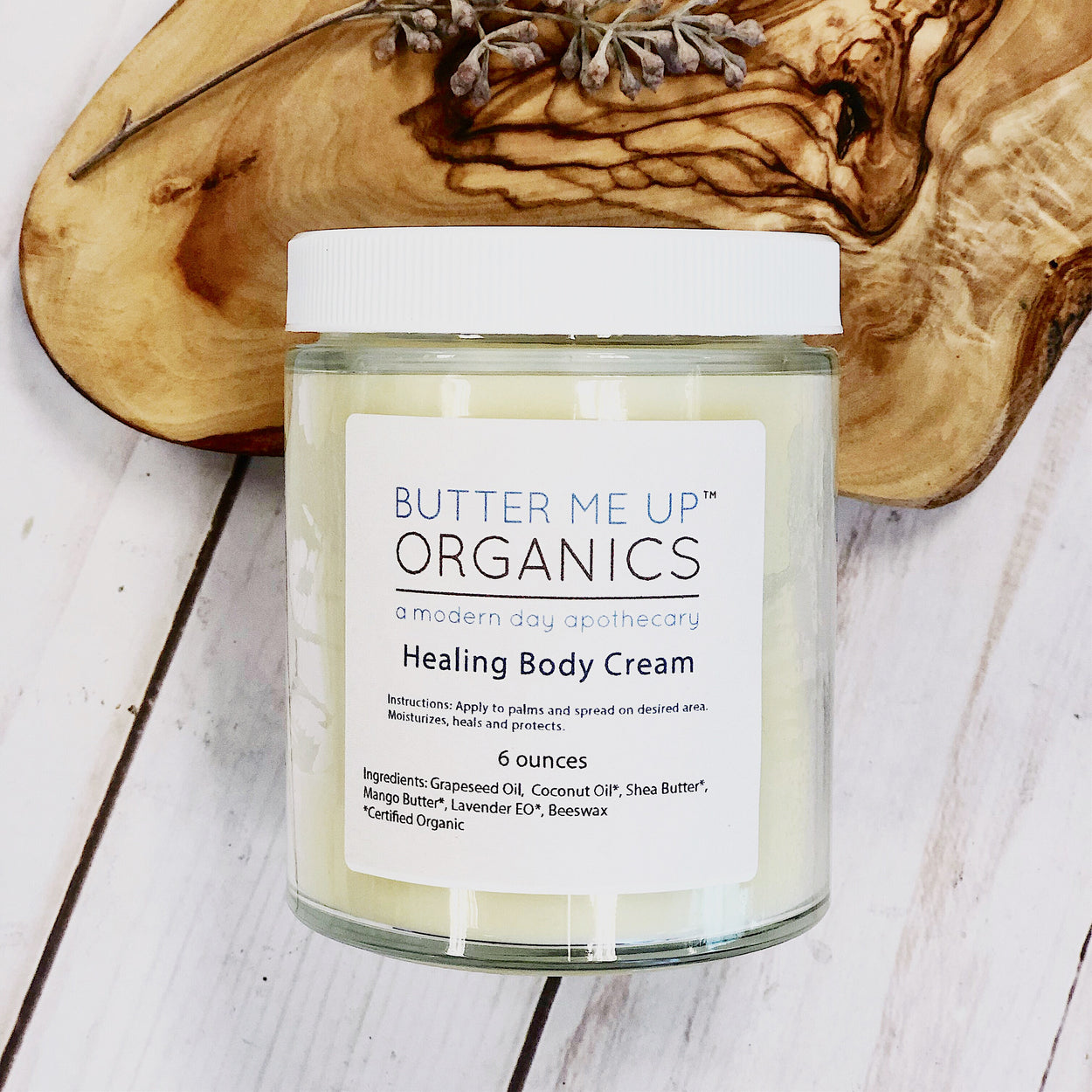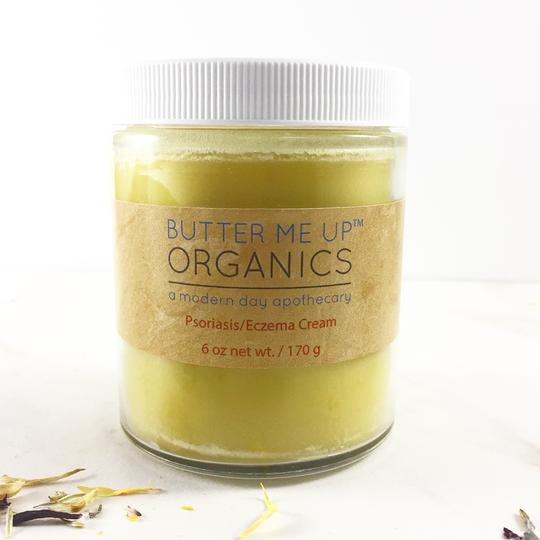 Butter Me Up Organics
Sensitive Skin Gift Set
Sensitive Skin Gift Set perfect for you or anyone you know struggling with psoriasis or eczema!

This gift set includes:

Sensitive Skin Cream with Black Seed Oil and Argan 4 oz.

Tired of those uncomfortable, itchy outbreaks? Try our wonderful skin cream to relieve the symptoms of uncomfortable skin ailments. Each ingredient we choose is for a specific benefit to the skin/body or mind. In this recipe, we use very specific ingredients chosen to combat the ailments directly so that you may find relief and comfort knowing that what you're putting on your body is all-natural and good for you! No more steroid creams!

I made this for my Father-In-Law who has battled Psoriasis for many years. In just half the jar he was raving about how it doesn't itch anymore and the outbreak is almost half of what it was. He made me promise to bring him more jars next time we came to see them. Fast forward two years and he is away from the dermatologist with only scars left from where his outbreaks used to be. Those are fading, but he had that condition almost his whole life and he's almost 80. This cream has also helped a few family members with severe eczema. I love this cream and all of the ingredients in it.

I would recommend this for people 5 and up with severe patches.


Balthazar All Over Bar Organic Soap Vegan

This well rounded and beautiful bar can be used as shampoo, soap, face wash or all the above! Named for one of the three wise men, this handcrafted bar is fragranced with an uplifting combination of Frankincense and Organic Myrrh essential oils and has organic golden Turmeric marbled in. Made with a moisturizing combination of oils that provide elasticity to the skin naturally which makes your skin strong and look younger. The Organic Safflower oil aids in hair growth which makes this a great shampoo bar for strong and lustrous hair. The Turmeric has many wonderful benefits to your skin including treatment of eczema and psoriasis as well as aiding with acne and blemishes, preventing wrinkles, providing a light exfoliation and keeping the skin supple. This bar has a multitude of uses and we're confident you'll be happy with everyone!


Weight may vary slightly from bar to bar as they are handcrafted in small batches and hand-cut, which makes each bar completely unique! The herbs, oils and essential oils are the highest quality and specifically chosen for their health benefits to the body. Free of harsh detergents, dyes and synthetic fragrance these are the purest and most beneficial soaps you can buy. Our bars are hand cut so each bar is completely unique! We're confident that you'll love our soaps!


Skin Bomb-Large Organic Psoriasis/Eczema Bath Bomb

Having Eczema and Psoriasis is not easy and forces you to pay a little extra attention to your skin. Now treating your skin can be fun and relaxing with this therapeutic bath bomb! With a winning combination of coconut and kukui nut oil which naturally benefit these skin conditions, mixed with detoxifying sea salts, healing essential oils, and moisturizing aloe, this item is so relaxing and soothing that you might forget why you needed it in the first place!

Ingredients: Sodium Bicarbonate, (Non-GMO) Citric Acid, Aloe Vera Powder*, Epsom Salt, Himalayan Pink Salt, Coconut Oil*, Kukui Nut Oil, Bergamot Essential Oil, Carrot Seed EO, Balsam Peru EO.
*Indicates Certified Organic


Healing Body Cream / Organic Body Lotion / Winter Skin / Dry Skin / Deep Moisturizer

This healing body cream is great for dry winter skin. Providing deep moisture and nourishing vitamins and minerals, this cream hydrates and heals.

Made with my favorite combo of Shea, Mango, Coconut, and grapeseed, this has all you need to stay supple and beautiful the whole winter!

Shop Info:

We believe that your skin is just as vital as any other organ in your body. Here at Butter Me Up Organics, we like to say, "Don't put anything on your body that you wouldn't put in it." So, on that note, all of our products are completely edible. They may not be so tasty, however, but everything we use is non- toxic premium ingredients. Can you say that about the products you're currently using?

Other Info:

Organic

Non-GMO

Completely cruelty-free

No sulfates, phthalates or parabens…ever

No synthetic dyes or fragrances

Labels printed on recycled paper from eco-friendly soy-based inks

Completely all-natural and safe

Zero waste company

Mailing packaging upcycled when possible

Everything is made with love <3

***This product has not been approved by the FDA though the individual ingredients have. This is not intended to replace the advice of a physician nor is it intended to treat, cure or prevent any disease.