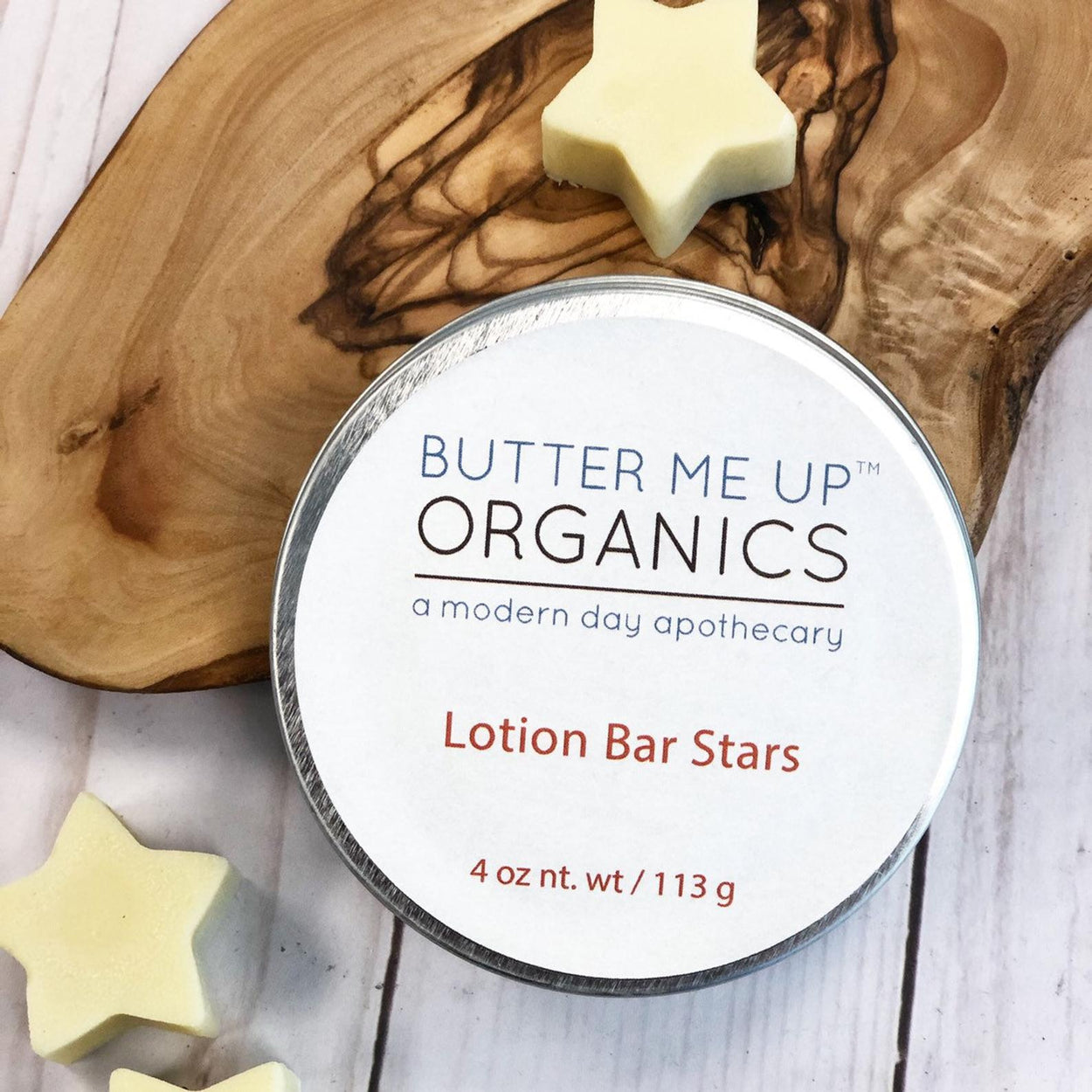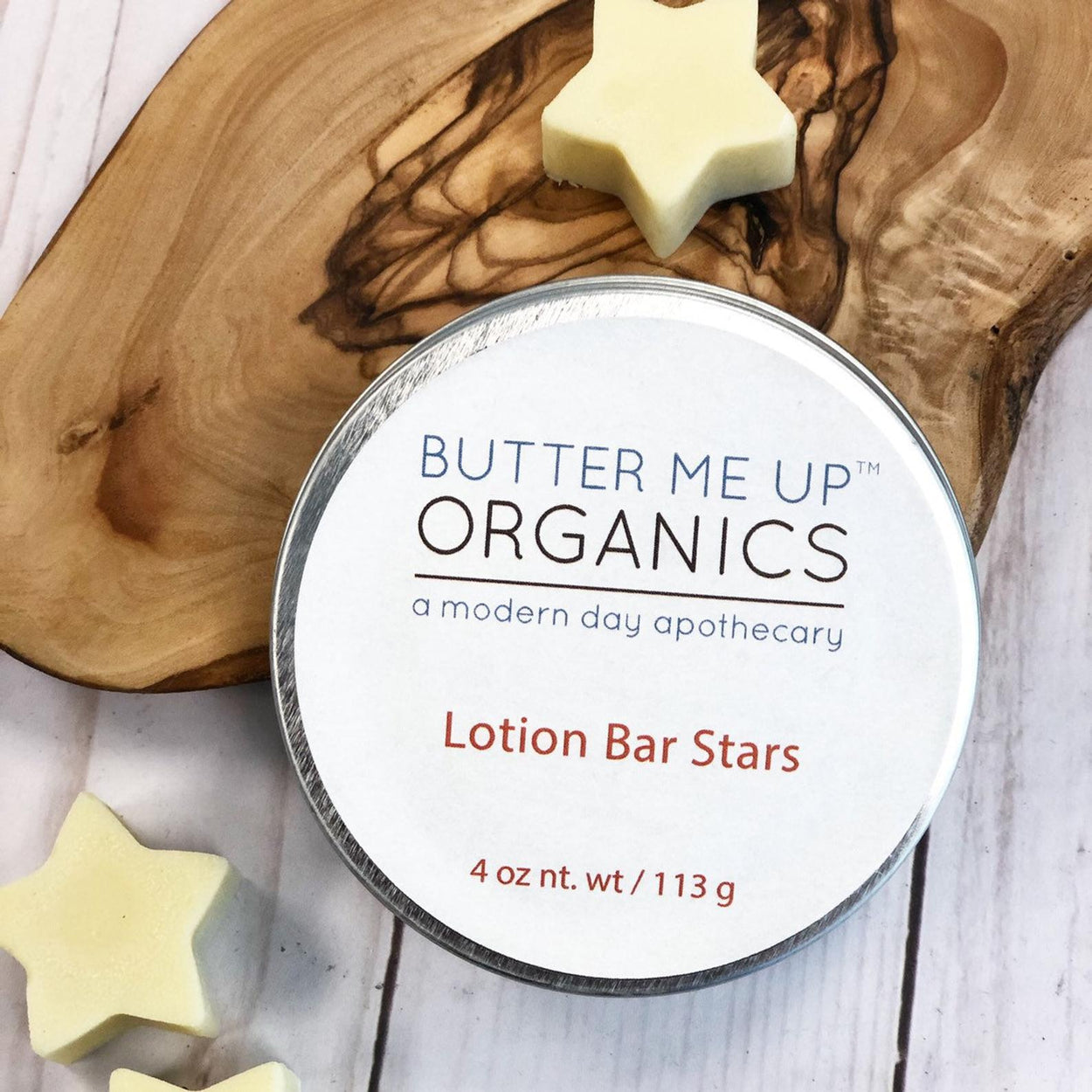 Butter Me Up Organics
Set of 8 mini organic lotion bar hearts
This set of mini organic lotion bars is cute and convenient. Lotion bars are a great way to hydrate your skin on the go or attack those rough patches. These are shaped like mini stars- approx 1'' wide and 1/2'' thick. Lotion bars are a solid lotion that melts at skin temperature. You get much more bang for your buck and they're ultra-moisturizing.

Packed with Shea Butter, Coconut Oil and Beeswax, this set is sure to handle the roughest skin. Simply rub onto skin and bar melts slightly at skin temperature. Packed in a protective 4 oz tin for storage.

Shea Butter is naturally rich in Vitamins A, E, and F, as well as a number of other vitamins and minerals. Vitamins A and E help to soothe, hydrate, and balance the skin. They also provide skin collagen which assists with wrinkles and other signs of aging. Vitamin F contains essential fatty acids and helps protect and revitalize damaged skin and hair. Shea Butter is an intense moisturizer for dry skin and is a wonderful product for revitalizing dull or dry skin on the body or scalp. It promotes skin renewal, increases circulation, and accelerates wound healing. It is also beneficial for the treatment of many different conditions, such as:
• Dry skin
• Stretch marks
• Itchy skin, skin rashes, Eczema, and Dermatitis
• Sunburn
• Small skin wounds
• Damaged skin
• Rough skin (such as on feet)
• Insect bites
• Muscle aches, fatigue, and tension
• Wrinkles and signs of aging
• Chapped skin from cold weather
• Skin allergies
• Frostbite

In addition, Shea Butter offers a low level of UV protection (approximately SPF-6) and may be incorporated into natural sunscreen recipes. Because of its soothing nature, anti-inflammatory and rejuvenating effects, it is a perfect ingredient to incorporate into your body care recipes and skincare regime. It is also wonderful to use in the summer as a moisturizer before and after sun exposure to reduce the possibility of skin peeling or becoming dried out.

Coconut Oil helps to moisturize skin and delays wrinkles and sagging of skin. Beeswax is an excellent addition to skin care products as it is high in vitamin aA and helps the skin to restore its natural moisture. It will not clog pores and leaves the skin hydrated and protected.

Shop Info:

We believe that your skin is just as vital as any other organ in your body. Here at Butter Me Up Organics, we like to say, "Don't put anything on your body that you wouldn't put in it." So, on that note, all of our products are completely edible. They may not be so tasty, however, but everything we use is non- toxic premium ingredients. Can you say that about the products you're currently using?

Other Info:

Organic

Non-GMO

Completely cruelty-free

No sulfates, phthalates or parabens…ever

No synthetic dyes or fragrances

Labels printed on recycled paper from eco-friendly soy-based inks

Completely all-natural and safe

Zero waste company

Mailing packaging upcycled when possible

Everything is made with love <3

***This product has not been approved by the FDA though the individual ingredients have. This is not intended to replace the advice of a physician nor is it intended to treat, cure or prevent any disease.